Helping People. Changing Lives.
StepHouse Recovery and its staff do not participate in any type of monetary exchange for clients when a new client is referred to our program or when a StepHouse Recovery client is referred out. The Anti-Kickback Statute prohibits the knowing and willful payment to induce or reward patient referrals for the generation of business involving any item or service that has been paid for.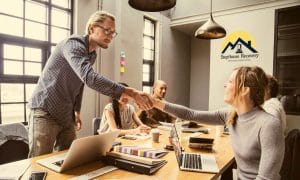 Being a leader in co-occurring disorder treatment and part of the drug rehab industry for chronic depression and alcohol addiction, we look to align ourselves with affiliate programs on the internet that are actual rehab centers and not third party marketing brokers.
If you have been in affiliate marketing or been involved in online marketing for any time you will know how unsatisfying it can be to promote yourself as something that you are really not and that you have no real contribution to people's lives.
Imagine a world where people were free of addiction and depression!  Help us make a difference and save lives.